Call on the Government of India to..
10/190 George Street
Sydney
NSW 2000
Calling for India to prohibit GM foods through the proposed Right to Food/National Food Security Act
In what has been called the single largest wave of recorded suicides in human history, Indian farmers are now killing themselves in record numbers. The cause? Monsanto's cost-inflated and ineffective seeds have been driving farmers to suicide, and is considered to be one of the largest — if not the largest — cause of the
quarter of a million farmer suicides
over the past 16 years.
According to the most

recent figures

(provided by the New York University School of Law), 17,638 Indian farmers committed suicide in 2009 — about

one death every 30 minutes

. In 2008, the

Daily Mail labeled

the continual and disturbing suicide spree as 'The GM (

genetically modified

) Genocide'. Due to failing harvests and inflated prices that bankrupt the poor farmers, struggling Indian farmers began to kill themselves. Oftentimes, they would commit the act by drinking the very same insecticide that Monsanto supplied them with — a gruesome testament to the extent in which Monsanto has wrecked the lives of independent and traditional farmers.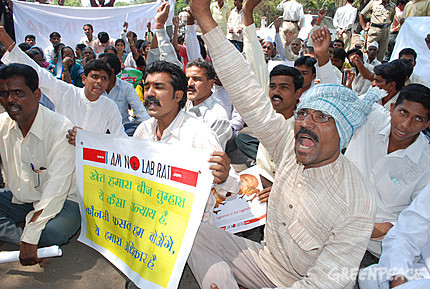 Mr Jayant Verma of Hamara Beej Abhiyan said that companies like Monsanto were notorious for their anti-farmer activities and if GM seeds like Monsanto's GM Corn are allowed, farmers' rights over their seeds and therefore, their agriculture, would be seriously jeopardized. The state government should, as a real solution to the current agrarian distress in the state, should shift farmers towards low-cost, toxic-free ecological farming practices, he said.
The GM Corn trial underway in open air conditions in Jabalpur consists of Monsanto's proprietary technologies centred around herbicide tolerance and insect-resistance and has been sown with the permission of the Central Government. "Both Agriculture and Health are state subjects as per the Indian Constitution. The state government should immediately intervene and exercise its policy of making MP into an organic state", demanded Mr Nilesh Desai of Beej Swaraj Abhiyan.
It is also apparent that the state level apparatus laid down under the Environment Protection Act's 1989 Rules is missing in Madhya Pradesh.
"It is ridiculous to pump in crores of rupees for supporting rural employment in the form of NREGA and then take away existing employment potential in agriculture, especially for women and poor agricultural workers, by bringing in technologies like herbicide tolerance", stated Mr Brij Kishore Chaurasia of Adivasi Sushasan Sangh.
"GM crops do not increase yields as claimed by the industry and pro-GM scientists and it is apparent in the case of Bt Cotton in Madhya Pradesh. This technology, which is irreversible and uncontrollable, will be a bigger trap for farmers than the earlier corporate-driven agricultural technologies. The state government, for the sake of farmers and agricultural workers in Madhya Pradesh, should immediately destroy this trial plot and not allow any more trials in the state like other states like Kerala", said Mr Ishwar Tripathi of Bhartiya Kissan Union. "In this kind of neo-colonialism, agriculture and seeds have become the medium to enslave Indian farmers and we should resist this at all costs".
Mr Sachin Jain from the Right To Food Campaign, MP informed that GM foods are known to cause many adverse health effects and with such unsafe foods, a precautionary approach is the only way forward. He demanded that GM foods should be prohibited through the proposed Right to Food/National Food Security Act.
When Prince Charles claimed thousands of Indian farmers were killing themselves after using GM crops, he was branded a scaremonger. In fact, as this chilling dispatch reveals, it's even WORSE than he feared.
https://www.facebook.com/occupymonsanto