Occupy Sydney are supporting The Coal Seam Gas Rally called by the NSW Farmers Association assembling at the Elizabeth & Phillip St sector of Martin Place at noon May 1 2012 ...
At the Occupy Sydney General Assembly on Saturday 28 April a call was made to come in Black come masked come prepared. Fracking uses highly toxic chemicals including tolulene in a deadly cocktail so devastating that it fractures solid rock to release Coal Seam Gas. There is no technology to recover this cocktail which is left in the ground once spent- potentially placing our Water table at real risk of contamination.In the USA Pittsburgh, spiritual and dynastic home of the US Oil moguls recently banned Fracking. Australia and NSW must ban Hydraulic Fracturing too.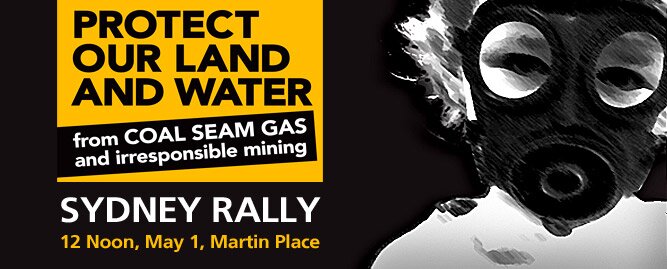 It's time to stand up and stand together, before it's too late! Join the rally on May 1
The people who grow our food are coming to Sydney by their thousands with a message for the NSW Government…
Protect our land and water from coal seam gas and irresponsible mining!
The NSW Government promised to protect water, health, agriculture and the environment from CSG and other mining. But their draft plans break this promise.
No part of NSW – not the land where food is grown, not our water catchments – is off limits to CSG and other mining

Most of the state – including Sydney, the Illawarra and the Northern Rivers – is not covered by land use plans

Regions can be converted from rural to industrial landscapes
This rally has been called by the NSW Farmers Association – the people who grow our food. The campaign has brought together a broad group of supporters who want planning that protects productive and sensitive areas and the protection of water across the state – that applies before mining and CSG exploration.
The most powerful force in this country is a community working together to stand up for its rights.
Join the rally on Tuesday May 1: 12 noon – 1:30pm
Meet at Martin Place (between Philip Street and Elizabeth Street) and march to NSW Parliament. (re published from their Facebook ...here
see more on Occupy Sydney General Strike