M1GS Public Transport No Pay Day
A call from Occupy Sydney supporters for a public transport No Pay Day has been sufficiently broad to act autonomously on.
read more here
OCCUPY MAY DAY - GENERAL STRIKE
Facebook
As we edge closer to May 1st we're hearing about some Group and autonomous actions in Sydney on the day.
Theres an international Mayday planning webinar

Wednesday, April 18, 2012 8:00 PM - 9:00 PM EDT

Join members of Firedoglake, Occupy Buffalo, Subversive Theater and Interoccupy for an outreach webinar in the interest of understanding the history of Mayday, past actions and why we should strike this year. Varied approaches and creative, fun ways to reach out to your community.

Hosted by Firedoglake/OccupySupply

Wednesday, April 18, 2012 8:00 PM - 9:00 PM EDT .

Registration link:

https://www3.gotomeeting.com/register/602567126



The Coal Seam Gas Rally is assembling at the Elizabeth & Phillip St sector of Martin Place at noon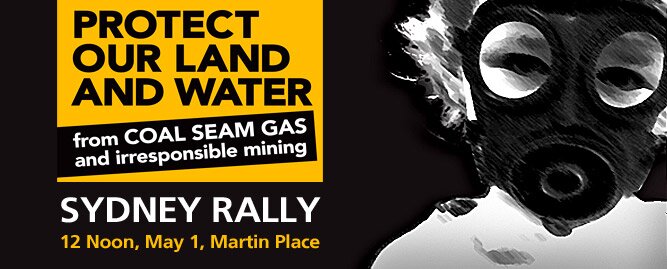 It's time to stand up and stand together, before it's too late! Join the rally on May 1
The people who grow our food are coming to Sydney by their thousands with a message for the NSW Government…
Protect our land and water from coal seam gas and irresponsible mining!
The NSW Government promised to protect water, health, agriculture and the environment from CSG and other mining. But their draft plans break this promise.
Under the draft plans:
No part of NSW – not the land where food is grown, not our water catchments – is off limits to CSG and other mining
Most of the state – including Sydney, the Illawarra and the Northern Rivers – is not covered by land use plans
Regions can be converted from rural to industrial landscapes
This rally has been called by the NSW Farmers Association – the people who grow our food. The campaign has brought together a broad group of supporters who want planning that protects productive and sensitive areas and the protection of water across the state – that applies before mining and CSG exploration.
The most powerful force in this country is a community working together to stand up for its rights.
Join the rally on Tuesday May 1: 12 noon – 1:30pm
Meet at Martin Place (between Philip Street and Elizabeth Street) and march to NSW Parliament. (re published from their Facebook ...here
.......................................................................................
please download print & disseminate this May 1st Poster from Bernice ...
.................................................................................................


May 1st, 2012 posters and graphics
and theres this gem brochure for those with capability to print colour..
also There are May 1st General Strike Actions from the International Occupy and Activist communities.
Twitter campaign by @onthechemtrail HELP get #chemtrails trending on INTERNATIONAL CHEMTRAIL AWARENESS DAY May 1, 2012 #MayDay MayDay GET THOSE JETS OUT OF OUR SKIES!! #wakeup
Truckers and Wobblies Come Together in May 1 Inauguration of Workers' Hall http://bit.ly/II9Nyi #M1GS